While calisthenics is a popular choice for fitness enthusiasts who do not want to be dependent on gym equipment, it won't hurt to get a little help from reliable training gear. Even the most basic workout routines can give enhanced results with the use of workout companions such as ankle weights. If you want to see how, read our guide here.
If you're on the lookout for means to protect your muscles and joints alongside optimizing your muscles' strength, endurance, and tone, you've definitely come to the right place.
We know that shopping for ankle weights can be a challenge especially for beginners. At first glance, different products can all look the same right? But trust us, they're not!
In this buying guide, allow us to walk you through the important considerations before hitting that add to cart button, and to introduce you to our top 13 picks as the best ankle weights for calisthenics available in the market.
Come with me as I show you the 13 best Ankle Weights of 2020.
Top 13 Best Ankle Weights of 2020
Mir Adjustable Ankle Weights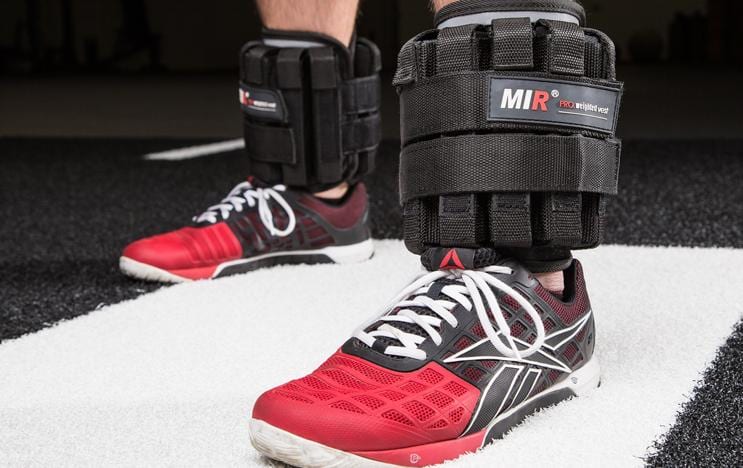 If you're looking for a strength training equipment that you won't outgrow as your Calisthenics routine gets more intense, MiR Ankle Weights is a highly recommended option. Sold in pairs, this gear comes in 5 lbs, 10 lbs, and a 20 lbs pair variants – all in a black netted design.
Pros
Made of heavy-duty nylon for maximum durability

Designed with a soft lining, comfortable wear even in heavy workouts

Leak-proof due to web netting

Secured straps adjustable to any body type

10 lbs and 20 lbs variants come with pocket segments to tweak your resistance weight
Cons
5 lbs variant is not adjustable

Some beginners had a hard time using the ankle weights since it did not come with any instructions
Fit for calisthenics beginners and experts alike, we love how MiR's Ankle weights can easily be customized according to any physique, any type of workout (e.g. cardio, hiking, running, etc.), and any level of endurance.
DA VINCI Adjustable Ankle Weights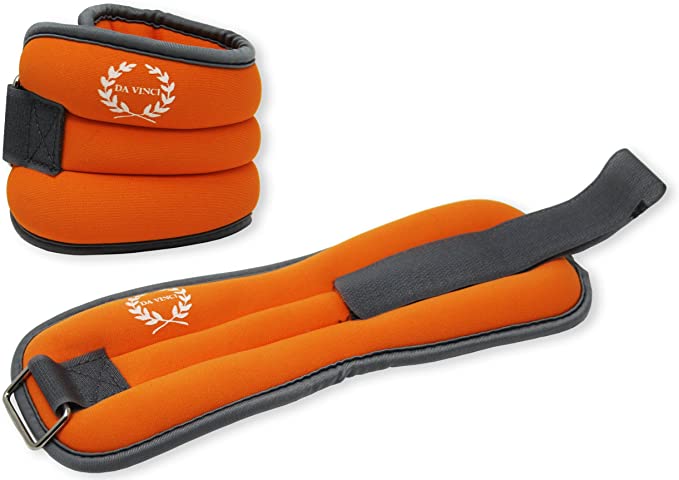 Wouldn't it be great if your ankle weights can not just adjust to your ankle's circumference, but also to its shape? Da Vinci's soft fabric design got you covered. Calisthenics enthusiasts who love vibrant outfits will also appreciate how its 2 to 10 lbs sets come in six color options: blue, green, orange, red, yellow, and lime.
Pros
Designed with a soft cloth interior for moisture absorption to keep your ankles dry during a workout

Adjustable velcro tightening band for secured fitting to any body size

Ergonomic, stretchable fabric provides a tight yet comfortable fit

Comes in six weight variants, available in pairs of 1 lb, 1.5 lbs, 2 lbs, 3 lbs, 4 lbs, and 5 lbs 
Cons
Some customers were disappointed about unsecured stitches, causing their ankle weights to leak after a couple of uses

Its soft material can be worn off by the velcro's grip
As a testament to its ergonomic features, Da Vinci is a favorite brand among chiropractors, physical and occupational therapists, and coaches for rehabilitation exercises and strength training.
REEHUT Durable Ankle Weights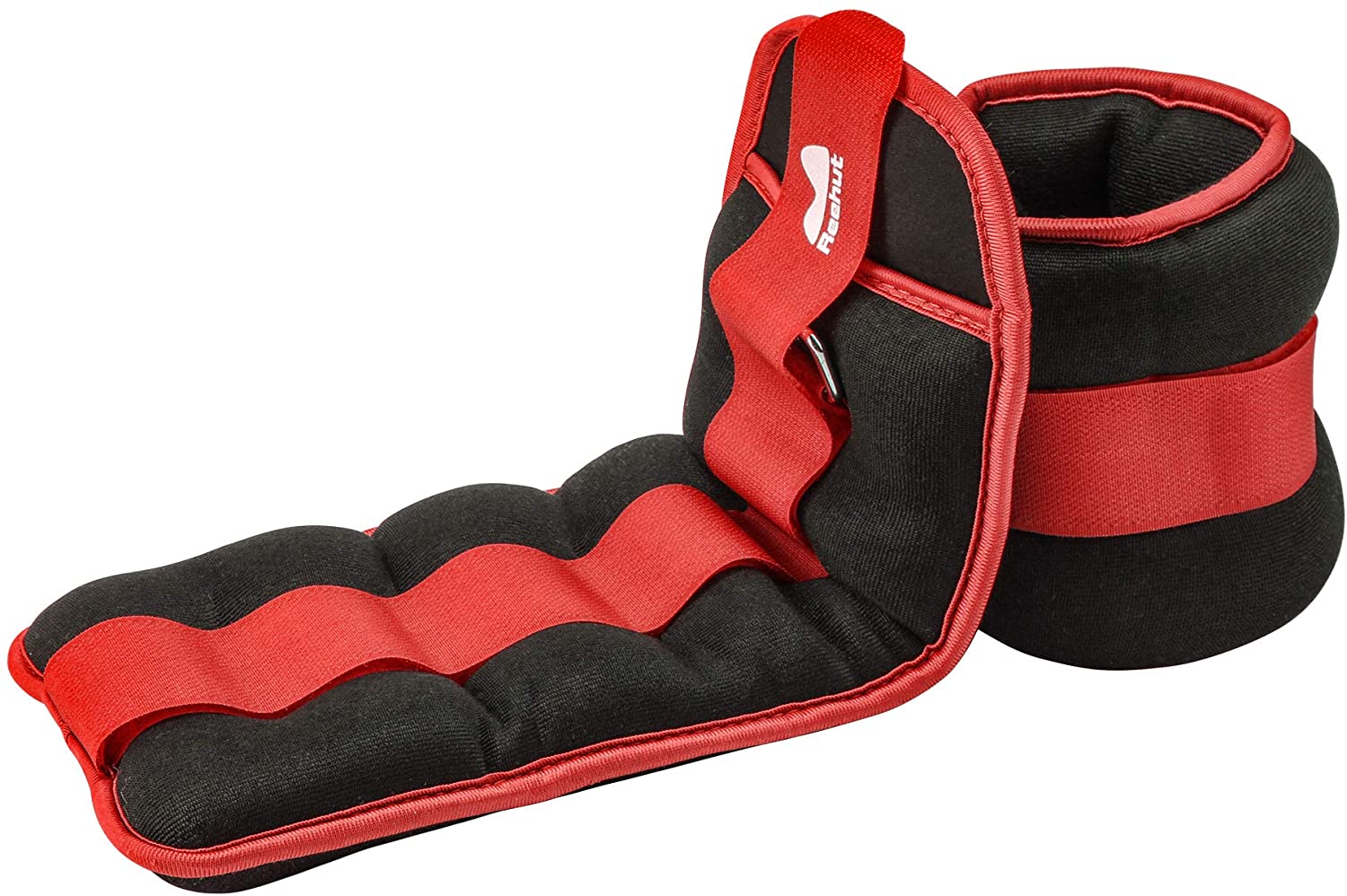 The Reehut Ankle Weights is designed to assist calisthenics enthusiasts in burning more calories, strengthening their legs, and toning lower body muscles. Made with mercerized cotton fabric that holds its iron shot fillings, this ankle equipment offers you seven vibrant colors (e.g. red, green, pink, blue, orange, sky blue, and gray) of accents to choose from to complement its black mainframe.
Pros
Easy to use, can be worn and taken off in just a few seconds

Breathable fabric is designed to absorb moisture for maximum comfort

Premium quality materials that guarantee durability

Adjustable strap closure for a customized fit

Available in seven weight options, sold in pairs of 0.5 lbs, 1 lb, 1.5 lbs, 2 lbs, 3 lbs, 4 lbs, and 5 lbs
Cons
Customers wished its lighter weight variants weren't designed to be so short, so it won't leave a gap where the straps constantly rub their ankles

There are customers who were turned off by the ankle weight's smell that reminded them of gasoline or other petroleum products
Reehut swears by their product's durability and high performance. Customers can avail of their 30-day replacement or refund options on top of two-year warranty and lifetime service support. Even better, the manufacturer published helpful buying guides so you can choose your best fit depending on your skill level and calisthenics goal.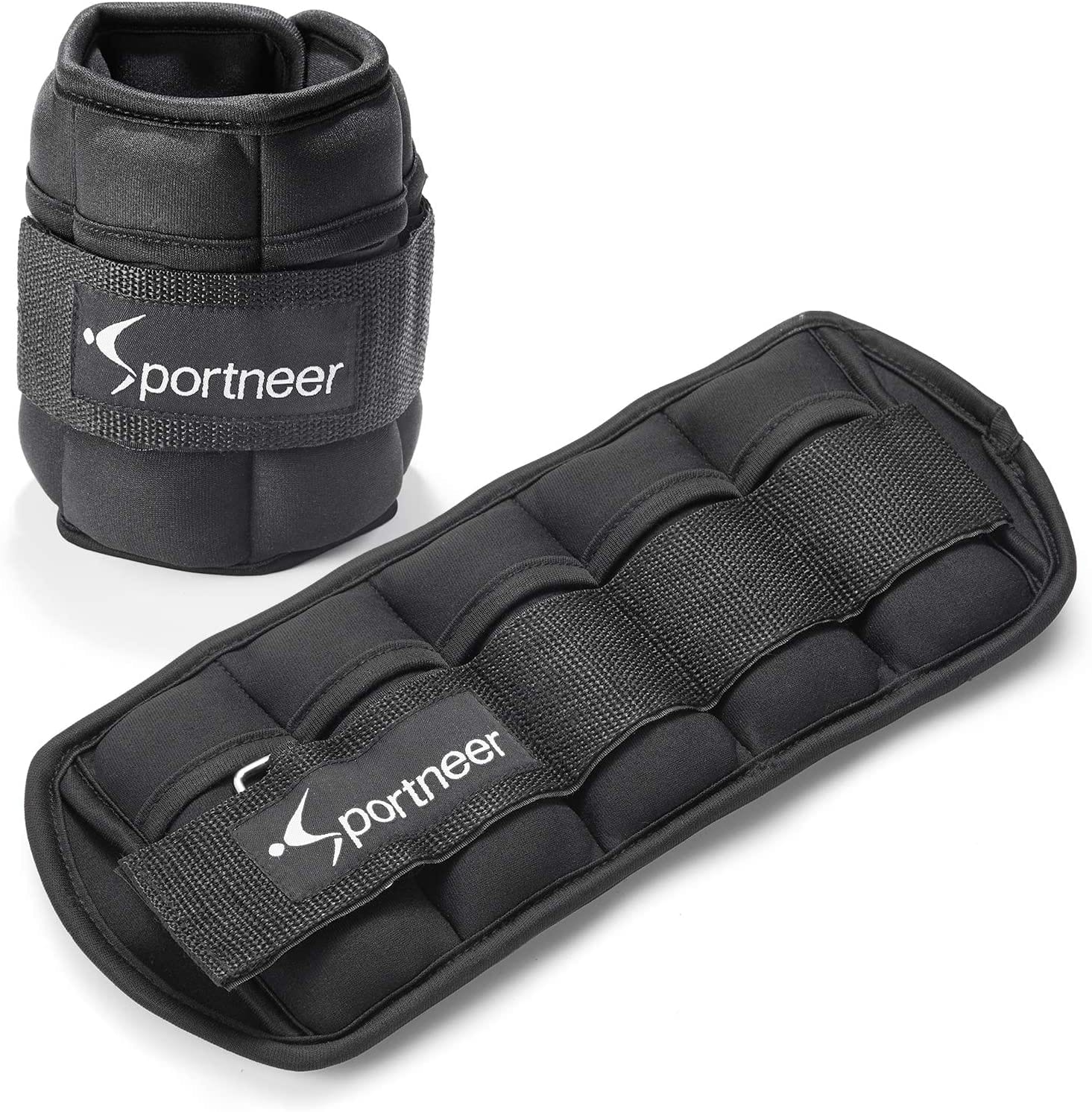 Looking for a balance between comfort and performance? Sportneer ankle weights boast of a neoprene exterior with reinforced stitching that gives you such a soft feel even when you hold it in your hands. Available only in a black variant, it's sold by pair and has a total adjustable weight of 2 lbs to 10 lbs.
Pros
One size fits all, adjustable velcro straps can fit 5.9" to 14.5" circumference ankles

Adjustable weight, designed with five removable pockets

Strong metal loop that firmly holds straps in place even in high-intensity workouts

Durable, anti-fray trim and reinforced stitching

Breathable fabric for improved air circulation; ensures comfort during exercise
Cons
The sand in each pocket can sink to the bottom over time, affecting the fit of the weights

Some customers cautioned that its straps can be worn off after only a month of active use
No need to fear that you've bought ankle weights that are a tad too heavy or a bit lighter for your liking. Sportneer's adjustable weights allow you to test out the optimum resistance for each type of calisthenics workout.
The Cuff Original Adjustable Ankle Weights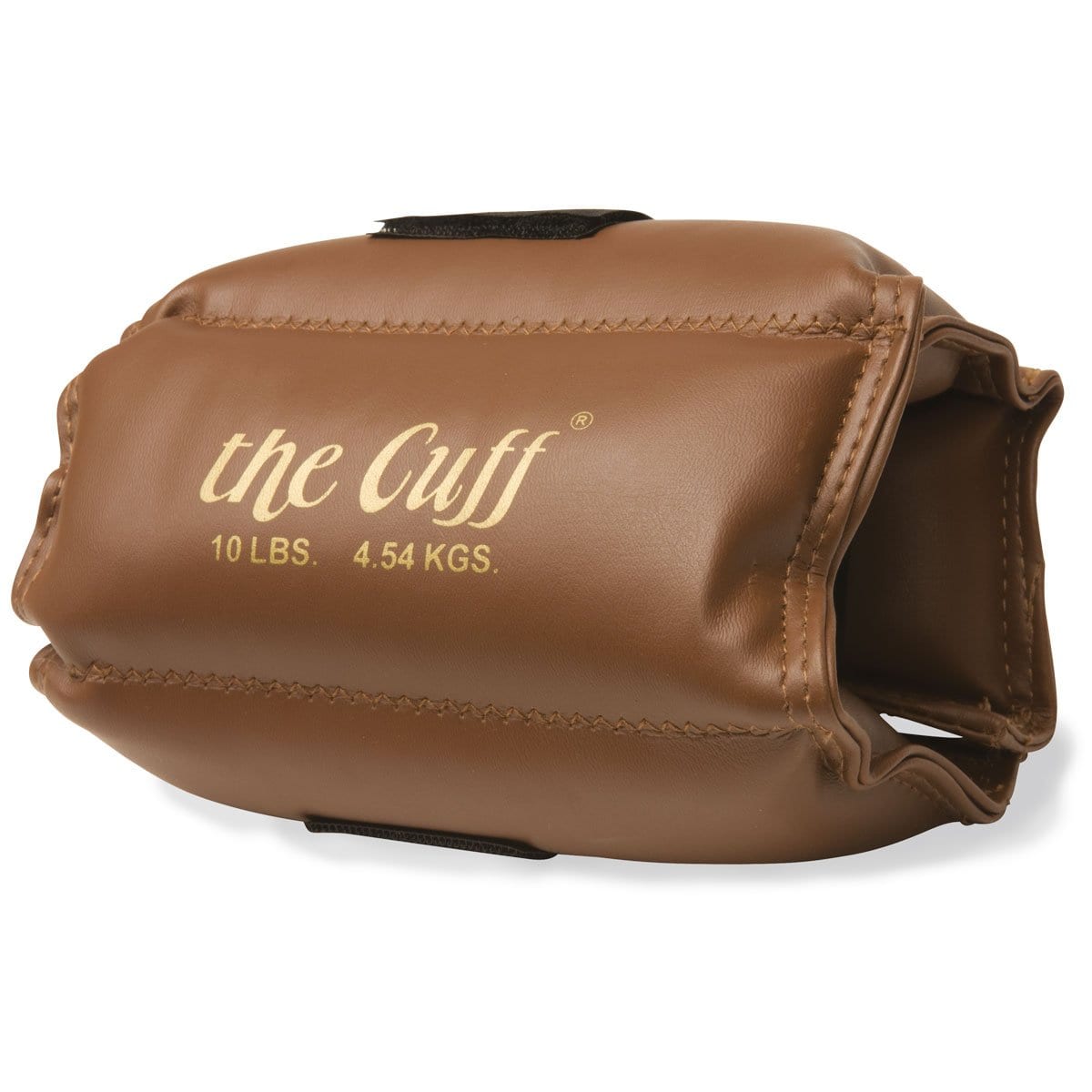 The Cuff ankle weights have been designed to bring durability, compactness, and customization in one product line. Manufactured with a vinyl material that adjusts to the contours of your body, this training gear is available in 20 color-coded weight options ranging from 0.25 to 25 lbs.
Pros
Portable design that makes it wearable even under your clothes

Easy to clean vinyl material

Wide weight options, comes in 20 variants between 0.25 lbs to 25 lbs

Heavy-duty material reinforced by double stitching to withstand the toughest workouts

Flexible and adjustable for varied body types with non-slip straps
Cons
Can be too big for thin users

Sold individually, there are customers who complained about receiving different quality products in one order
If you're after a brand with the most weight options available, The Cuff and its 20 variant strong product line is worth considering. Loyal users have considered it a collection-worthy equipment, with repeated purchases as they build-up their strength training.
AmazonBasics Adjustable Ankle Weights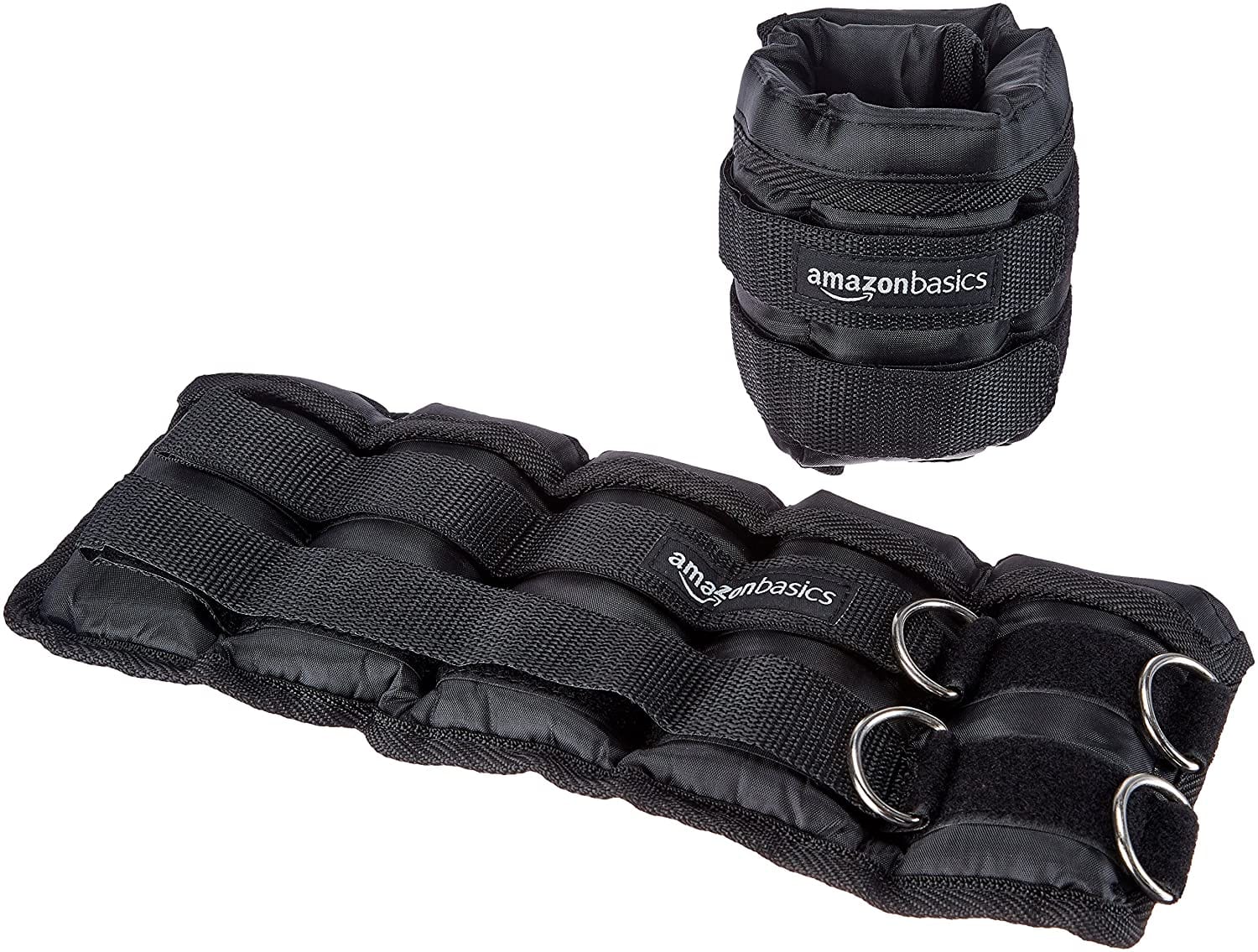 Fit for all ages and skill levels, the Amazon Basics ankle weights can be a great companion for calisthenics exercises at home or in the gym. Each compact pair sold has a 10 lbs total weight enclosed in its 14 x 6 inches a sleek black design.
Pros
External removable pockets for easy adjustment of weight

Double velcro strap design for a slip-free fitting

Durable materials and stitching

Versatile use, customizable fitting to add resistance to your desired muscle group (e.g. arms, legs, etc.)
Cons
Though they're secured by durable pockets, each sandbag is only secured with plastic

The straps are too long and inconvenient for some customers
Amazon Basics prioritized this product's durability, manufacturing it with durable polyester and nylon fabrics to support its sand-filled weight packs. Even better, it guaranteed prolonged reliable performance with a one-year warranty.
BalanceFrom GoFit Fully Adjustable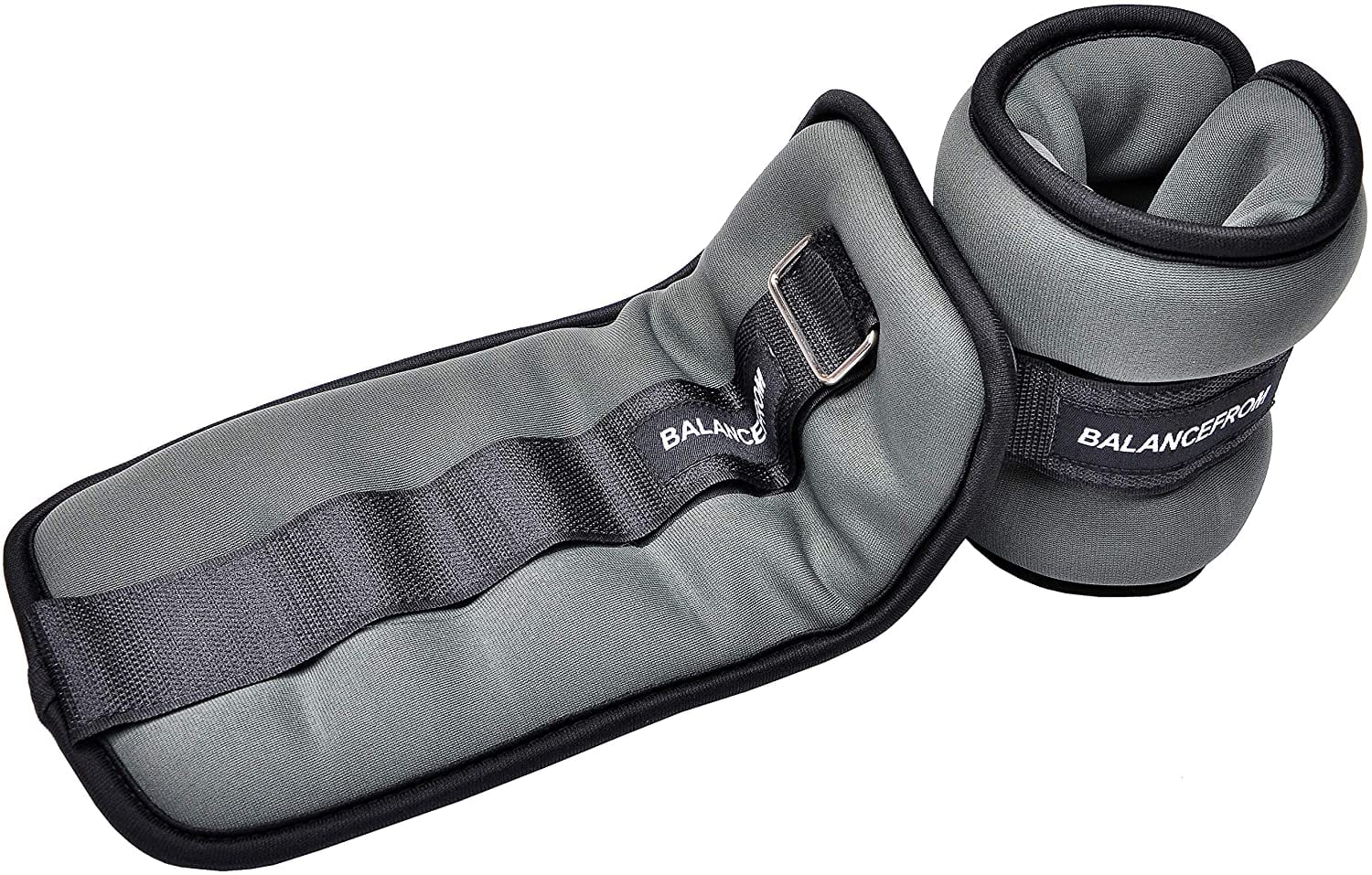 BalanceFrom ankle weights are comfortable, fully adjustable gears that can enhance the results you get from your calisthenics training. The manufacturer offers seven color-coded weight alternatives, all made with a durable neoprene fabric and reinforced stitching.
Pros
Oversized Velcro straps for secured fitting

Breathable, moisture-absorbent material for comfortable wear

Easy to put on and take off

Flexible fitting for the arms, wrists, legs, and ankles

Multiple weight options (1 lb, 1.5 lbs, 2 lbs, 2.5 lbs, 3 lbs, 4 lbs, and 5 lbs pairs)
Cons
Active users warned that its fillings can spill out even after just a single high-intensity workout

Some customers felt that it was too stretchable for their liking, and would have appreciated a tighter fit
BalanceFrom highly values customer satisfaction. Each pair sold is backed by a two-year warranty and responsive user support.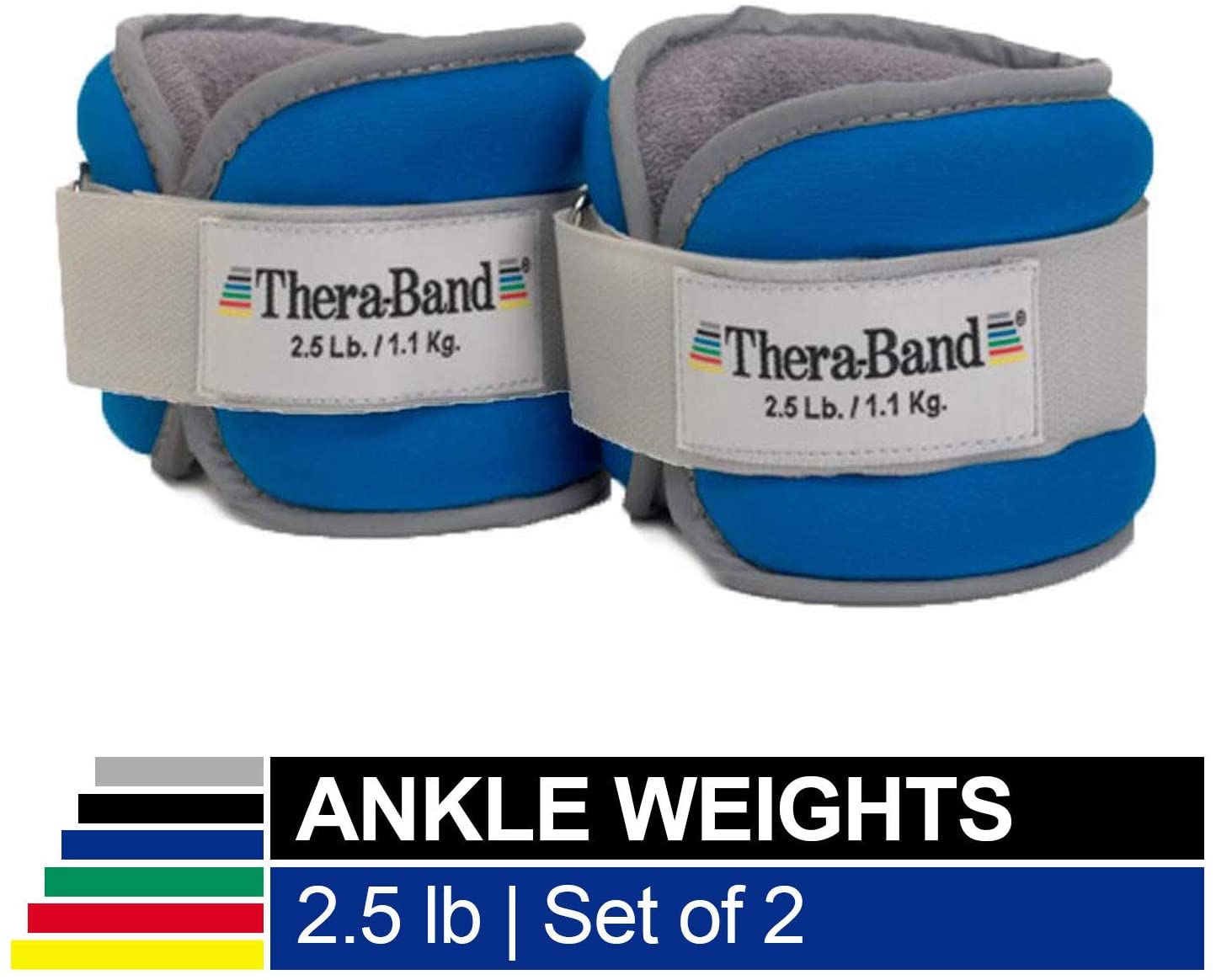 For calisthenics aficionados who are always on the go, the TheraBand ankle weights and its portable tube packaging can be a great buddy. You can choose from its three color-coded paired options weighing a total of 2 lbs, 3 lbs, and 5 lbs.
Pros
Light and discreet, can be hidden under your clothes for daily use at work or school

Made of non-abrasive terrycloth that efficiently absorbs moisture

Soft material can hug the contours of your arms, wrists, ankles, or legs

Adjustable straps secured by a buckle closure

Easy to store and portable
Cons
Some customers wished it comes in heavier variants 

Starts to smell after repeated use since it cannot be washed
The TheraBand has been a top pick for rehabilitative exercise programs, often used by postoperative patients who require physical therapy. This can also be a great choice for dancers, cheerleaders, and gymnasts who want to tone their muscles and form.
Henkelion Adjustable Ankle Weights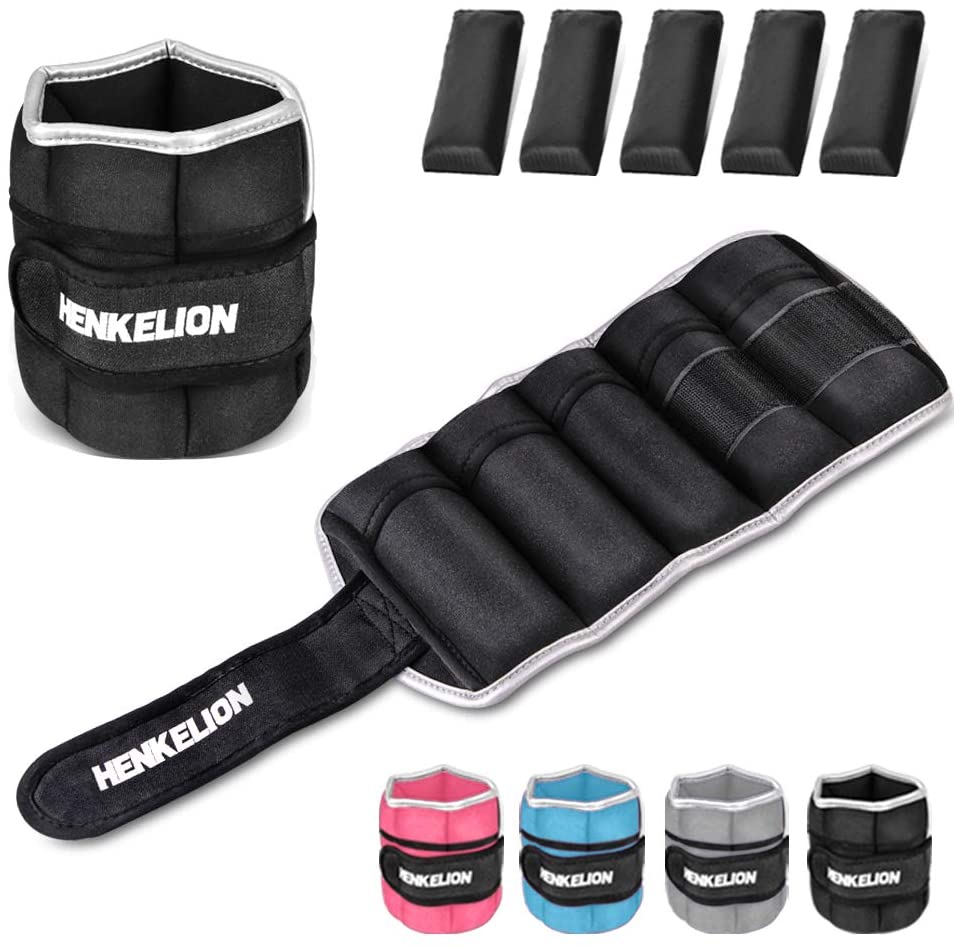 The highly customizable Henkelion ankle weights has an elongated design that can be used for training your arms, wrists, ankles, and legs. You have the option of purchasing pairs weighing a total of 4LB, 6LB, or 10lbs in any of its five color variants (pink, violet, gray, black, and blue).
Pros
Comfort wear with its breathable mercerized cotton material designed to improve air circulation

Comes with reflective strips that increase your safety when training outside in the evening

Designed with five separable weight bags to adjust the gear to your desired resistance

Manufactured with premium neoprene and reinforced stitching

Wide application, can be used regardless of gender, age, and skill level
Cons
There were users who found it very inconvenient and time-consuming to adjust the weight bags

Some customers discouraged using it for rigorous routines
The Henkelion ankle weights are suitable for both beginner and advanced calisthenics lovers. The manufacturers suggest that it's ideal for use in gymnastics, gym workouts, jogging, and aerobics for enhanced joint protection and strength training.
All Pro Adjustable Ankle Weights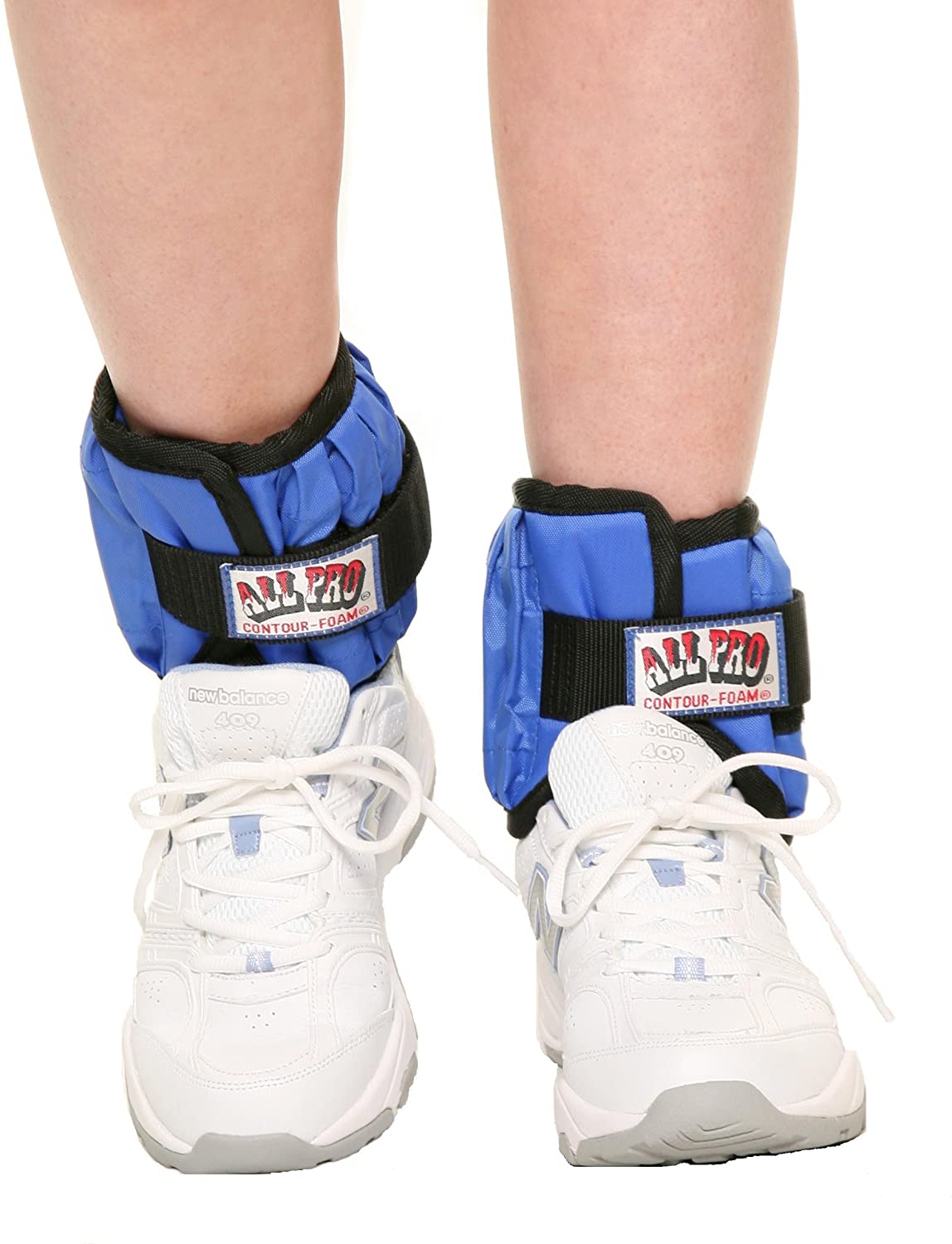 The All Pro ankle weights can steer you away from injuries without sacrificing mobility. This training gear comes in a blue design to hold pairs with a combined total of 5 lbs, 10 lbs, 20 lbs, and 40 lbs.
Pros
Cushioned flaps meant to protect ankles alongside permitting full range of movements

Customizable weight resistance with individual solid iron weights

Special padding placement designed to support the Achilles tendon

Adjustable wide straps
Cons
There were buyers who wished the velcro straps were longer

Some customers complained that they could feel the metal bars' corners during workout
With a high regard for safety, the All Pro ankle weights are packed with protective features for calisthenics beginners and experts alike.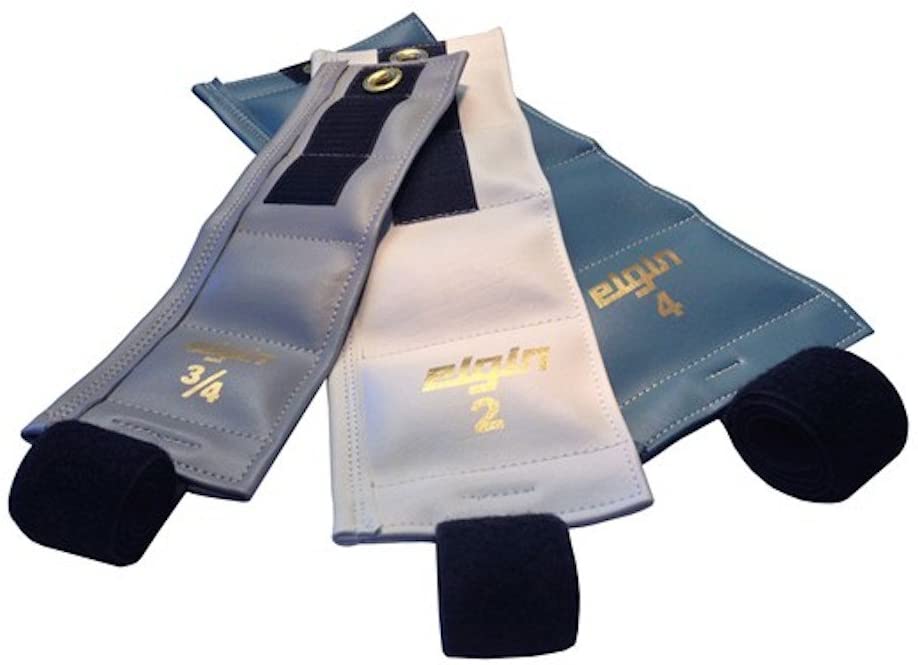 If you're highly meticulous of your chosen brand's reputation, you might be impressed with the Elgin ankle weights who have served the sports and fitness market for over 20 years. Calisthenics enthusiasts who love to introduce variation in their routine will appreciate that this training gear comes in 15 weight options.
Pros
Made with superior quality vinyl and neoprene that can adjust to your body's curves

Long hook-and-loop straps ranging from 10 to 14 inches long for a secure fit that even allows layering of several cuffs

Filled with pure lead-free steel shot made in America

Durable and leak-free, reinforced with double stitches that can withstand years of use

Designed with a grommet to prevent the weights from sagging over time
Cons
Sold individually instead of by pair

Customers with small physiques might have problems with fitting
The Elgin ankle weight is a common sight in sports clubs, hospitals, and physical therapy facilities. Much importance is given by the manufacturer in maintaining the American standard for quality, making sure that all materials and features of the gear can be a long term reliable partner for calisthenics fans.
Bona Fully Adjustable Ankle Weight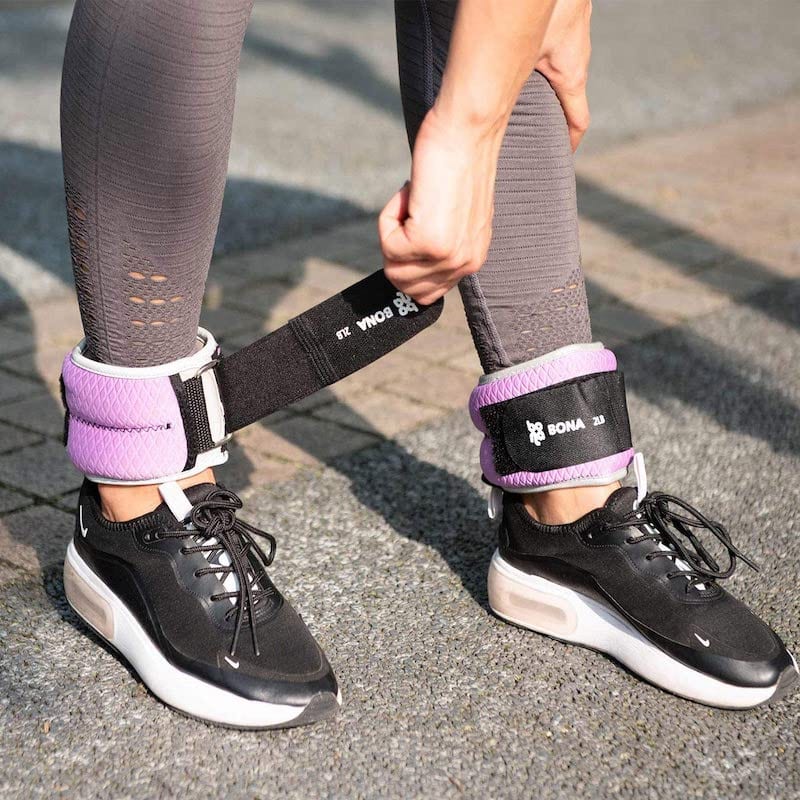 The Bona ankle weights' design marries aesthetics and functionality. It's available in four vibrant color-coded variants ranging from a total of 2 lbs to 5lbs per pair, so you can choose your right companion for your calisthenics training type.
Pros
Fillings are wrapped with Lycra, a fabric known for its moisture absorption, flexibility and skin-friendly features

Ranged velcro straps to fit any ankle or wrist size

Easy to put on and adjust

Filled with high-quality iron sand secured by reinforced stitching to avoid leaks

Perfect for rehabilitation trainees, aerobics enthusiasts, and yoga lovers
Cons
Might be too light for intense strength training
With its adjustable functions and body-hugging design, the Bona ankle weights have varied applications that even little kids could enjoy. It's ideal for walking, running, aerobics, core training, and other calisthenics exercises.
Prosource Fit Ankle Wrist Weights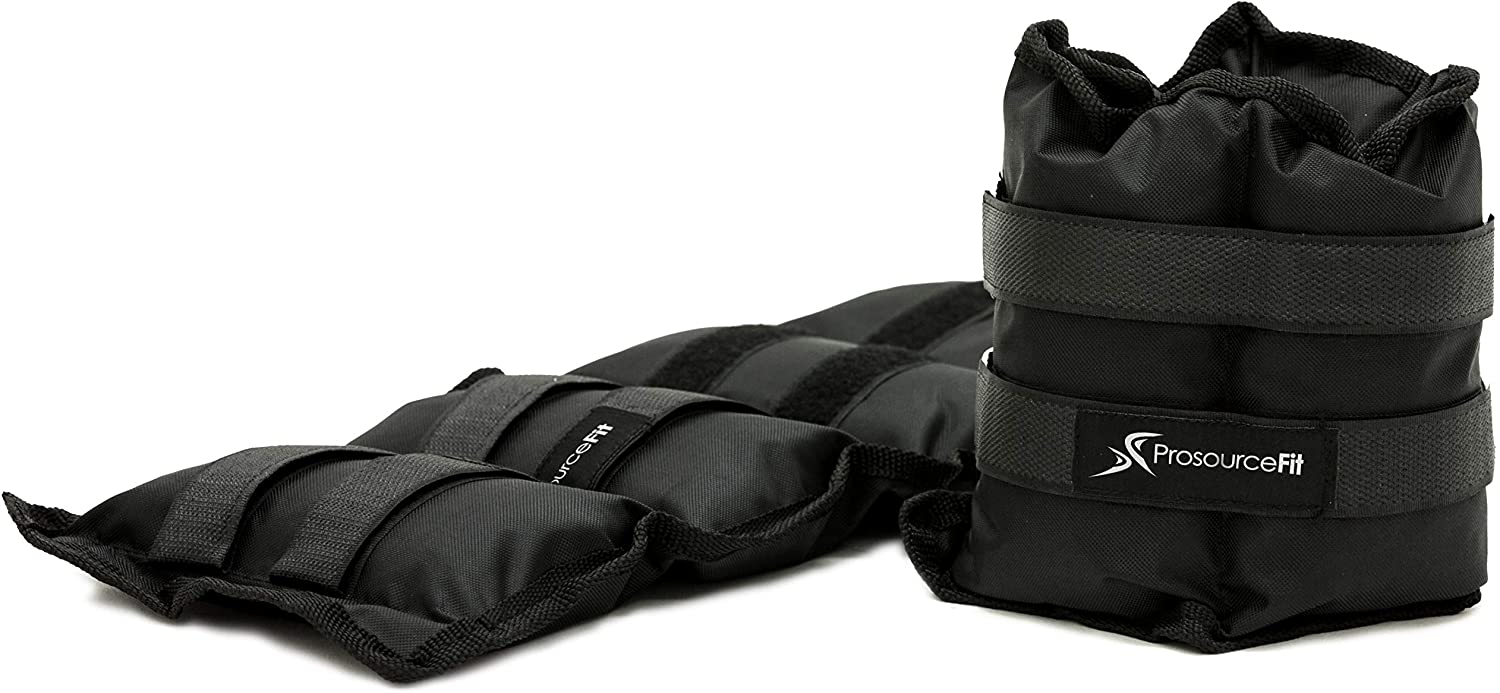 The Prosource ankle weight is a lightweight, compact-sized gear that can easily fit in any gym bag or luggage. Gradually increase your resistance level with its six color-coded variants ranging from 1 to 5 lbs each.
Pros
Made with a soft neoprene material for a comfort fit, you might not even notice you're wearing them during a workout

Adjustable and durable velcro straps for getting your desired tightness and fit

Lightweight options for beginners and physical therapy patients

Absorbent, non-slip fabric for safe exercises

Gentle on the skin to avoid scratches and chafing
Cons
Some customers warned about how its velcro can shed little splinter-like pieces

Not ideal for running, since its fillings move around and is redistributed as you move
Regardless of your age, fitness level, and calisthenics goal, Prosource ankle weights can help you jumpstart an enhanced training program. Even post-operative patients won't be left out with its design and material that's easy on weak muscle areas and joints.
Important Consideration When Purchasing Ankle Weights
Durability

– Your ankle weights must be able to withstand the intensity and frequency of calisthenics training. You wouldn't want sand fillings to spill everywhere in the middle of your exercise, right? What a mess that could be. Watch out for customer feedback about the wear and tear of the gear's main body and straps. Don't fret, our list included options that boast of premium quality materials, reinforced stitching, and even warranty services.

Size and length

– Measure the circumference of your ankles to make sure that the ankle weights you'll purchase can provide a perfect fit. Getting a product that is too big will cause it to slip and move during your routine, while small ones can leave an uncomfortable gap where straps can irritate your skin.

Safety features

– Avoiding injuries is a must in any calisthenics workout. In this list, we've selected products with impressive safety features such as reflective strips, ergonomic paddings, and skin-friendly trims.

Your workout intensity

– The resistance level you choose must complement your calisthenics program. Lightweight gears can do the trick for beginners, aerobics enthusiasts, and post-operative patients undergoing physical therapy. But if you're a committed bodybuilder, you might want to consider the heavier options.

Type of filling

– Our top picks list is a mix of fixed ankle weights and those with removable fillings. The latter can be a tempting choice if you want the freedom to adjust a single product for multiple uses. Moreover, you must also choose between iron bars that can give greater resistance levels or sand fillings that have body-hugging features.
Don't be fooled into thinking that Ankle Weights and other strap on body weights won't help you. Understand that these types of simple tools can give you big boosts and gains. Ankle weights are a easy, low-cost fitness toolbox item that everyone should own. If you need more information on how to best leverage these, remember to read our guide: Using Ankle Weights For Better Calisthenics And Bodyweight Workouts