Thick. Heavy. Intimidating. The first time you hit the gym, you probably eyed the battle rope and the warrior-like people who used it nervously. 
However, it's pretty basic to incorporate them into your routine. Ropes have been used classically for years by calisthenics enthusiasts who want a quick but tough calorie burn. While most beginners find ropes handy for jumping and skipping, this workout tool can do a whole lot more for your body goals!
When used correctly, battle ropes can give your jumps, lunges, squats, and leg exercise routines a complete upgrade! Even better, they can blast fat away, tone your muscles, and improve your range of motion with low exposure to injuries.
Often recommended by fitness coaches and therapists, more and more people have been investing in battle ropes to reap this tool's benefits right at the comfort of their own homes. Owning your own set also allows you to tweak your routine better, as compared to depending on the generic, chunky rope at your gym.
Excited to hunt for the best battle ropes for your calisthenics workout? Allow us to walk you through the important considerations for ensuring that you get the most out of your investment, along with our top six favorite brands that definitely stands out in the market.
Add a header to begin generating the table of contents
Top 6 Best Battle Ropes of 2020
Best All-Around Rope Kit:
Power Guidance Battle Rope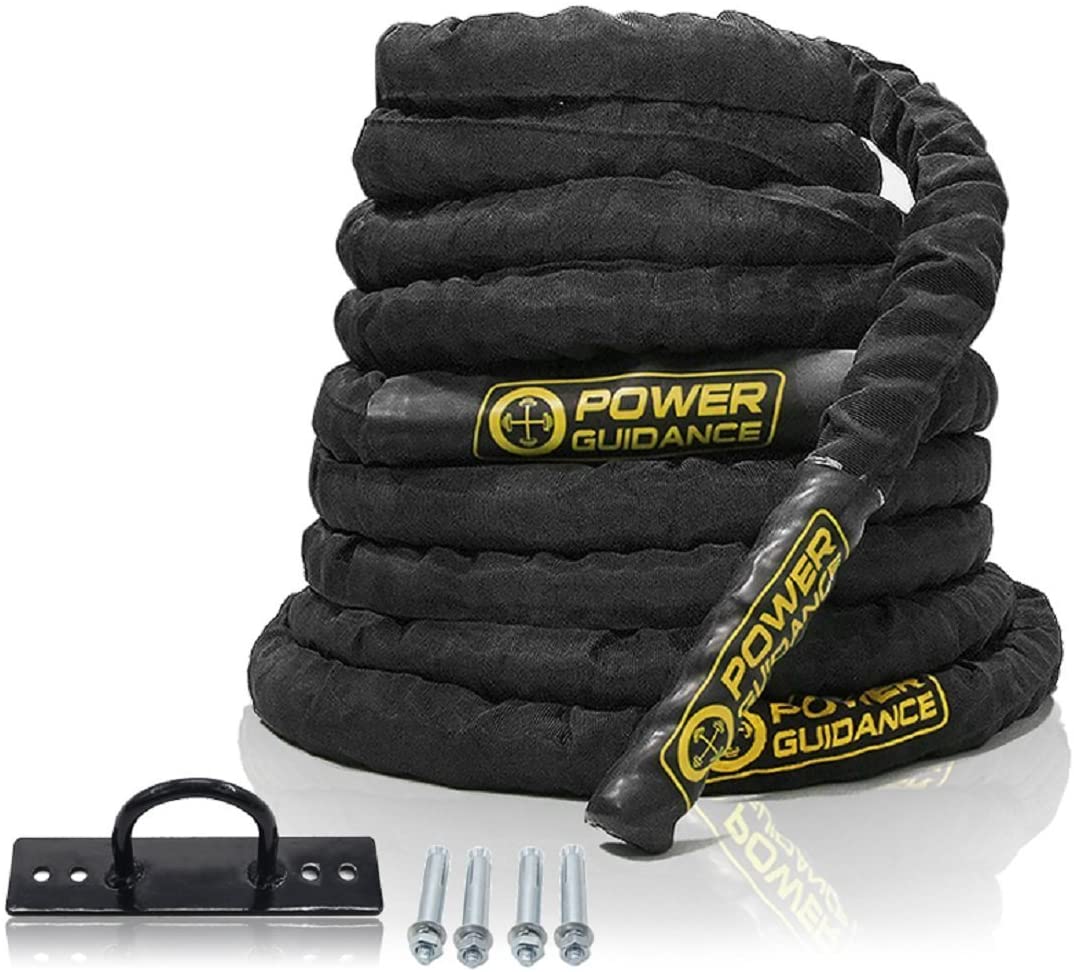 The Power Guidance Battle Rope takes the crown for being the best all-around rope kit available in the market. We love how its design is flexible for use at the gym, at home, or even outdoors. To help scale your workout, it's available in three length variants (30 ft, 40 ft, and 50 ft). You can also choose your ideal thickness between its 1.5 and 2.0 inches options.
Pros
Covered with nylon sleeves for less friction enhanced durability

Comes with a battle rope anchor

Protection sleeves are made of 100% Dacron which is heavier and more durable than PolyPro and PolyDacron

Equipped with heat shrink handles for a secured grip

Responsive customer service team committed to address dissatisfied buyers' concerns
Cons
Some customers wished that the package will include a setup manual, but there are available internet references that you can consult

Its handles can be slippery for some users, but using gloves can be a quick fix
Humble beginners and pro fitness warriors alike can find their perfect fit in Power Guidance's battle rope collection. The brand recommends its 30 ft long 1.5 inches option for general fitness, while those that are up for a tough grip workout can grab the 2.0 inches models instead.
Most Unique Twist on Battle Ropes:
Gronk Fitness Inertia Wave Workout Ropes
While most battle ropes are made of twisted cotton, the Intertia Wave Workout Ropes innovated by using heavy rubber instead. Buyers are often skeptical about its durability, but the brand boasts that it can withstand a whopping 600 pounds of torque. Even professional athletes can wave hard and execute beastly exercises with this product.
Pros
It comes with an anchor kit, allowing you to attach it anywhere including trees, fences, weight stations, benches, and even the trunk of your car!

Elastic design that allows users to control its resistance

Manufactured with durable materials (e.g. solid steel, double reinforced o-ring, etc.) that makes it a dependable companion for HIIT

Lightweight and portable weighs about 3lbs
Cons
Some buyers found its design too thin for their liking
Measuring 11.5 ft and 1.5 inches thick, the Inertia Wave Workout Ropes will enable you to control its resistance by tweaking how far you pull it. Gronk Fitness recommends you to install the belt buckles 24 inches high and has published YouTube videos to help you set up in a jiffy.
Most Portable Battle Rope: Hyperwear Hyper Rope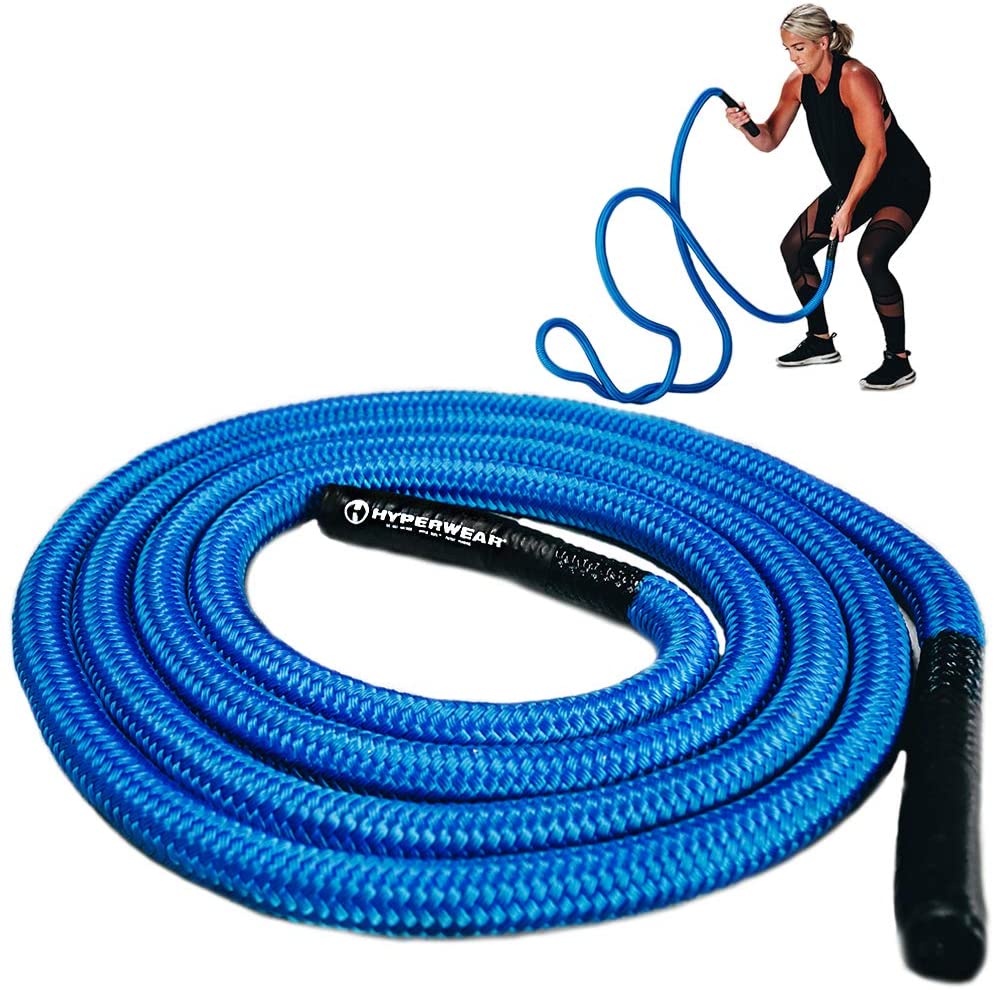 At first glance, people are doubtful to purchase a battle rope for their home workout since the ones at the gym are absolutely bulky. Hyperwear's Hyper Rope, our best pick for the most portable option, solves that dilemma. Powerful enough even at only 20 ft, this product is ideal for home use, small studious, and even outdoor training.
Pros
Absolute space saver with its short but dense built

Bult with a fluid metal dense core which allows you to use the rope even without an anchor strap

Designed with a ribbed handle for a more secure grip

Made with premium quality 100% polyester, so you don't have to worry about fraying

Quieter and more gentle for your floor

UV Light resistant, durable even for outdoor use

Supported by a 30-day satisfaction guarantee and a one-year warranty
Cons
There are users who find it so expensive for a battle rope
The Hyper Rope is meant to deliver just as much power as a 2 inch thick 50 ft rope would. It's short but dense design enables it to float above the floor, so you can start working out pronto and skip the hassle of setting up anchors.
Best Single Rope Trainer:
Hyperwear Sand Rope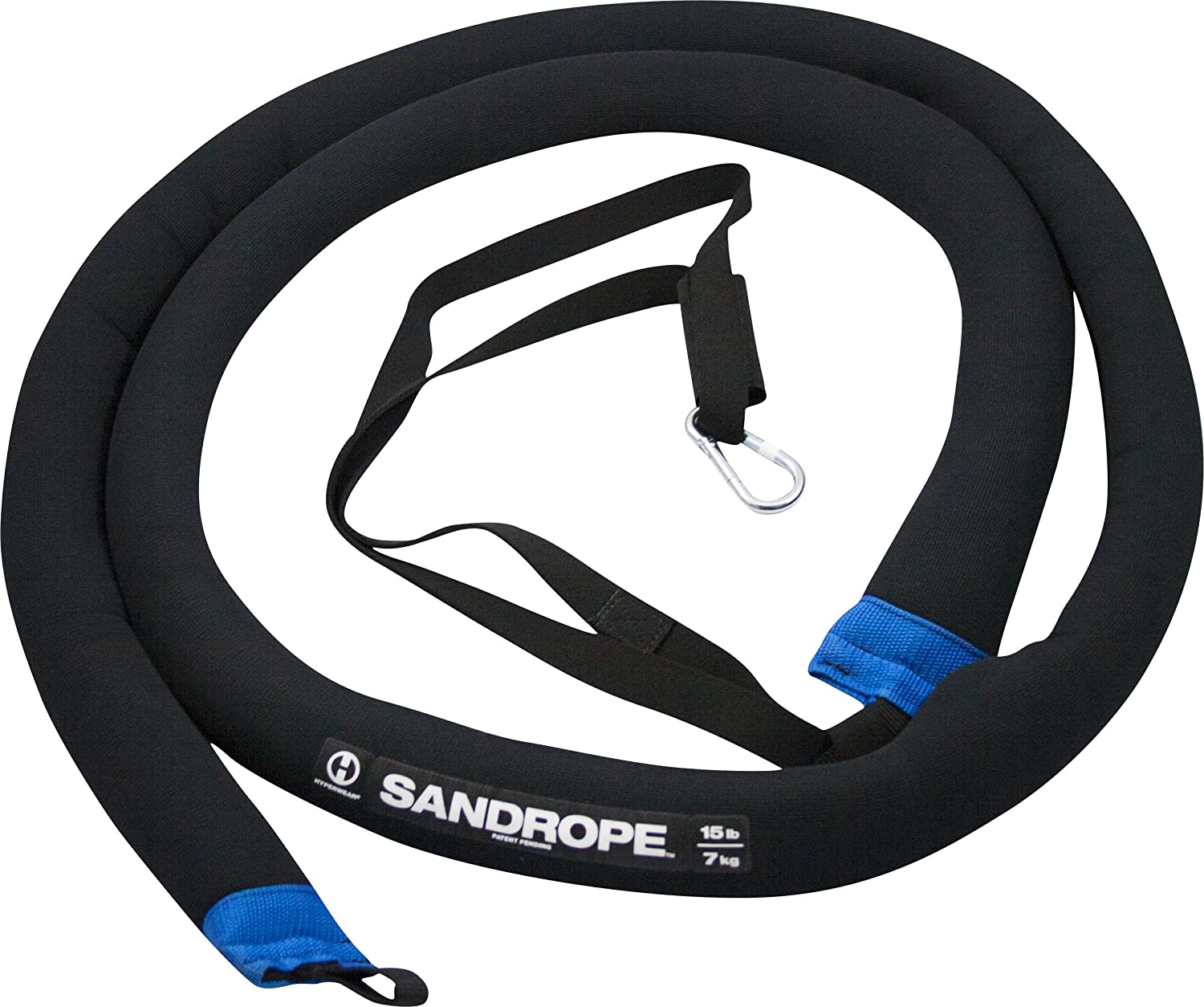 Let's face it, not everyone has adequate spaces in their homes that can accommodate dual ropes. Hailed as the best single rope trainer, another product from Hyperwear made it to our best battle ropes list – the Sand Rope. To enable as much resistance as its 30 to 50 ft counterparts would, this 10 ft product is made of neoprene that's packed with dense sand weighing 30lbs.
Pros
Portable and space-saving

Made of neoprene sleeves that are resistant to shedding

Single rope design solves usual difficulties in finding anchor points

Short but dense built

Its sand filling shifts along with your movement for enhanced mobility

Easy to clean, just wipe it as you would for disinfecting dumbbells or medicine balls
Cons
There are users who got used with traditional battle ropes found this single rope trainer awkward to use
With a single rope trainer like the Hyperwear Sand Rope, you can execute intensified workouts even with limited space. Even better, varied exercises are made possible without the hassle of securing anchors. Its manufacturer recommends varying your resistance training by holding it with both hands, alternating for each side, or simply purchasing another Sand Rope so you can work with two simultaneously.
Best Elastic Trainer for Legs and Arms:
Stroops Beast Battle Rope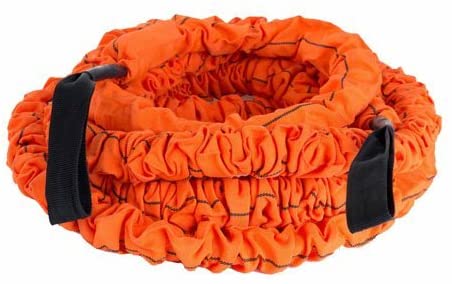 The traditional battle rope is handy enough to spice up calisthenics routines, but Stoops did not want to settle. It takes rope training to a whole new level with a hybrid design with built-in elastic resistance. This means that your workout is not only intensified by the weight of the tool itself, but also by the tension you exert on the elastic bands.
Pros
Backed by Stoop's six-month warranty

Delivers resistance worth 50 to 150 pounds

Reduces risk of injury with its lightweight design encased within a nylon sheath

Designed with the Slastix technology that stimulates muscle contractions throughout your body

Comes with a waist belt and loop handles
Cons
Some users wished it came in less flashy colors, unlike its current neon orange design
The Stroops Battle Rope does not only enhance your strength training, but can also do wonders for your agility, cardiovascular endurance, and range of movement. With its kit that includes loop handles and a waist belt, you can incorporate this tool with a lot more exercises such as reverse walking, explosive sprints, and lateral movement training.
Best Budget-Friendly Ropes:
AmazonBasics Battle Exercise Rope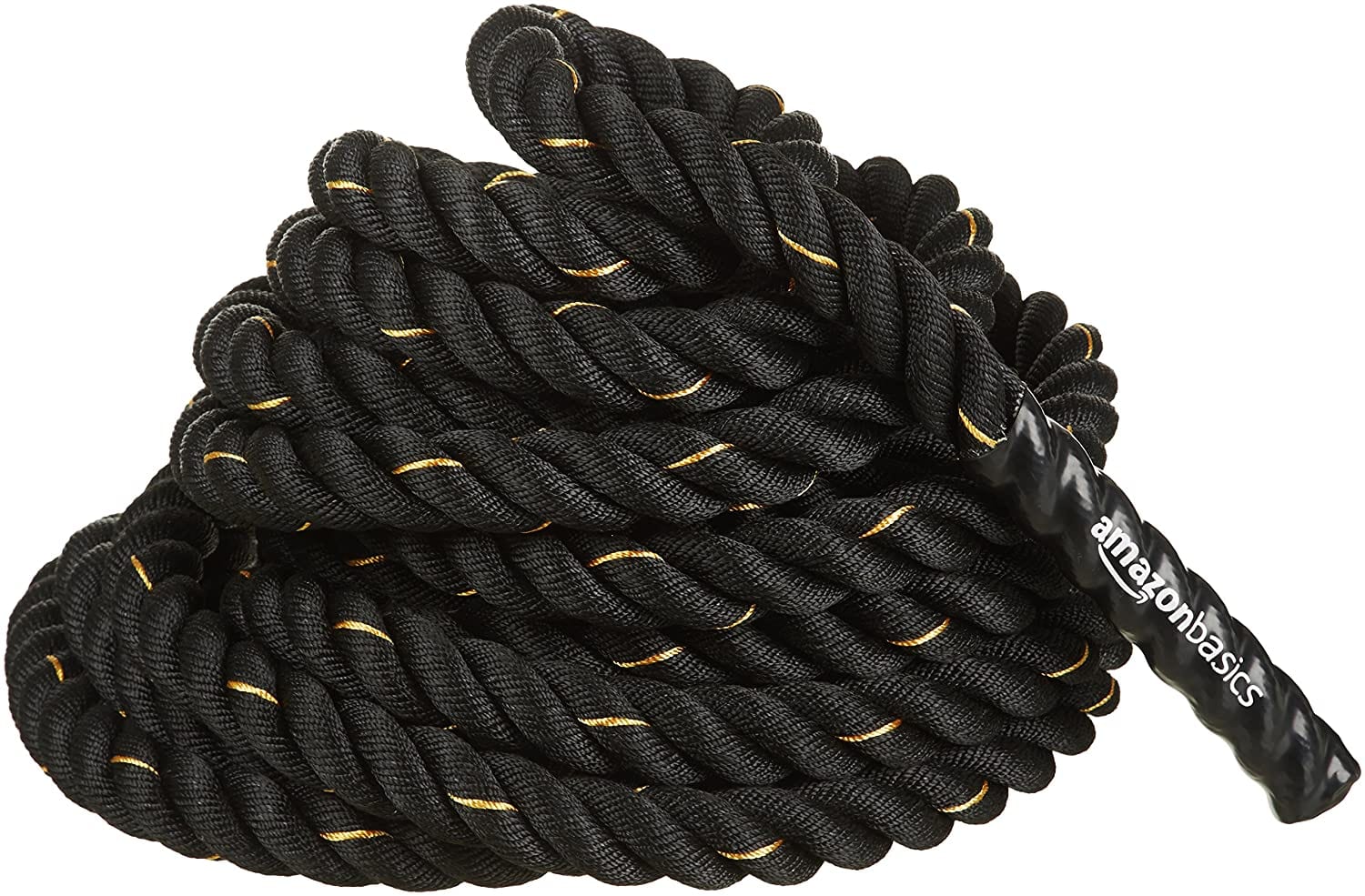 AmazonBasics developed an affordable alternative for calisthenics fans who want to try out battle ropes at a tight budget. Even at such low cost, the manufacturers offered no less than a durable and ergonomic design that outperforms other budget-friendly options in the market.
Pros
Built with a durable polyester blend

High tensile strength, prolonged usage without fraying or breakage

Portable and easy to store even in compact spaces

Covered by the Amazon Basics one-year warranty

Designed with a heat shrink handle for solid grips

Affordable, only costs half of other leading brands
Cons
There are customers who found the handles too slippery

Some reviews discouraged using the ropes outdoors, as it will cause faster fraying than normal
The AmazonBasics Battle Exercise Rope comes in a 1.5 and 2 inches widths that are available in 30, 40, or 50 ft variants, allowing you to choose based on your skill level. General fitness enthusiasts and pro athletes alike can now intensify their strength training without breaking the bank.
Important Consideration For Your Home Gym Battle Ropes Purchase
Length

– Just as you would scale your dumbbells according to your skill level, you have to consider the relation of a battle rope's length with the intensity of workout you will get. With longer ropes, you can achieve heavier resistance for more challenging routines. It's also recommended to keep in mind how much space is available in your home or gym for rope training.

Thickness

– Battle ropes usually come in two widths – 1.5 and 2.0 inches. A 1.5-inch rope is enough for general fitness training, but you can try out 2.0-inch models for tougher grip workouts.

Durability

–  Make sure that the material of the battle rope you choose is fit for the intensity of your training and your preferred location. Our buying guide is a medley of tools made of Dacron, Polyester, Neoprene, and other substances that vary in density and resistance to fraying or breakage.

Type

– The traditional battle rope often comes with anchors that you'll have to install before each session, but we have picked out innovative options you can check out. Our best battle ropes list even has entries that adopts a hybrid elastic design, delivers as much power within a single rope trainer, or do not need a fixed anchor at all.
Need Help With Your Battle Rope Training, Watch our Video Below
The Final Takeaway on All This
The one thing to understand when choosing battle ropes for your workout routine is that you need to INVEST SMART!
This means you want to look for ropes that fit into your home scenario and can give many options when you work out. Weigh the decision on which of the options listed above fits you best and go all-in with your home battle ropes choice!